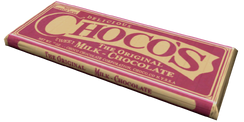 Choco's Candy Bars are a consumable item in BioShock Infinite. They restore Booker's health.
BioShock InfiniteEdit
Candy Bars can be commonly found in areas such as the Welcome Center, Battleship Bay, and Soldier's Field. They come in two varieties: milk chocolate and with almonds.
Ad blocker interference detected!
Wikia is a free-to-use site that makes money from advertising. We have a modified experience for viewers using ad blockers

Wikia is not accessible if you've made further modifications. Remove the custom ad blocker rule(s) and the page will load as expected.