Burial at Sea - Episode 2
Talk

50
1,988pages on
this wiki

Burial at Sea - Episode 2 is the second part of the story-driven downloadable content of BioShock Infinite, that will be available starting March 25th, 2014 for $15.00 USD on Playstation 3, Xbox 360, Windows PC, and Mac. It is also part of the Season Pass. This DLC puts the player in the role of Elizabeth as she explores Rapture during its fall.
Gameplay
Edit
The DLC features the city of Rapture built from scratch with game mechanics and the Unreal Engine 3 used for BioShock Infinite. It has been stated that Episode 2 will prominently feature stealth and survival horror gameplay, in contrast to the lively city of Rapture in the first episode. You will have access to weapons and the ability to open and possibly create Tears, as stated by Ken Levine.
With the DLC comes a brand new gameplay approach: 1998 Mode . The new gameplay option will challenge players to complete the narrative using only the non-lethal tools afforded to them.
Elizabeth reawakens next to Comstock's body some time after the first episode, with a man playing Russian Roulette with a pistol pointed at her head. Atlas appears, ordering him to simply kill Elizabeth and be done with it. Meanwhile, another man pulls Sally, kicking and screaming, from the vent. Elizabeth panics, but a vision of Booker only she can perceive instructs her to say she is Suchong's lab assistant and to promise them a way back to Rapture in exchange for Sally. Atlas, after some skepticism, agrees to her terms and hands her a radio before ordering the other man to knock her out.
Characters
Edit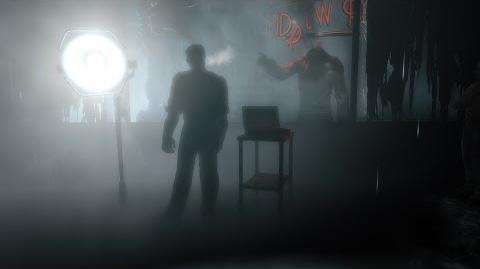 Behind the Scenes
Edit
This is the first BioShock story featuring a playable female protagonist.
Curiously, Elizabeth's right pinky finger is present, uncovered by the usual thimble.
This DLC will also feature a new Plasmid: Peeping Tom. This Plasmid will allow Elizabeth to turn invisible and also detect enemies around her. This is somewhat a successor to BioShock 2's multiplayer Plasmid Houdini