Featured Article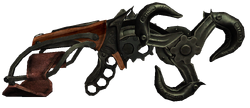 "SKY-HOOK: Ride the rails of the sky for the fastest travel in Columbia!"
― Fink Manufacturing advertisement
The Sky-Hook is a melee weapon and means of transportation throughout Columbia on its Sky-Lines, in BioShock Infinite.
The Sky-Hook was originally inspired by adventurous teenagers using the Sky-Lines for joyriding; with makeshift tools which would later result in broken necks. Although citizens credit Jeremiah Fink for the Sky-Hook, it was actually created by R.J. Pickwick, through his company's sponsor, Fink Manufacturing. The Sky-Hook was used by workers to perform maintenance on Sky-Lines. It was later utilized by the Police as an essential tool for catching criminals, including the Vox Populi. Sky-Hooks are powerfully magnetized to the Freight Hooks and Sky-Lines in Columbia, allowing their users to make death-defying leaps from point-to-point with the knowledge that they will automatically latch on. Additionally, the Sky-Hook's bladed scoops and rotary motor allow it to be used as a lethal, if messy, melee weapon. (Read More...)
Contribute
Not sure where to start?

If you are new to wikis, check out the tutorial.
To write a new article, just enter the article title in the box below.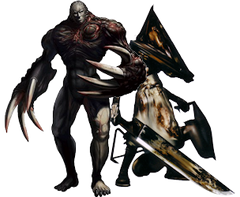 Horror Games
Go to these sites for info or for help with your own wiki!
Alice • Alone in the Dark • Amnesia • Bendy and the Ink Machine • Bioshock • Clock Tower • Dead Space • DreadOut • Fatal Frame • Five Nights at Freddy's • FNaF: Sister Location • The Last Door • Lost Alpha • Outlast • Resident Evil • SCP: Containment Breach • Silent Hill • SOMA • Spooky's House of Jump Scares • S.T.A.L.K.E.R. • The Evil Within • Until Dawn • White Day • Yomawari • Yume Nikki
Want your community included? See how!
See all of our Horror gaming wikis!

Recent News
[add · more]
Create blog post
Blogs
Well, after so long being know as "Formerly Irrational Games", we know now the new name for the company. Ghost Story Games. The old Irrational web sit…

Read more >
See more >
Unstable Teleportation Plasmid