Featured Article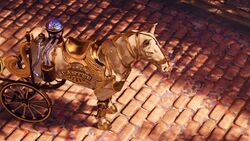 An Automated Stallion is a lifelike horse automaton in Columbia. Unlike regular horses which could be a drain on resources or react unexpectedly in the flying city, Automated Stallions replaced regular draft animals.
Since 1904, Payton Lane Easter and his family engineered the Automated Stallion as an alternate mode of transportation for Columbia's military forces, possibly as a replacement for horses that were likely to fall off the floating city when startled by weather conditions and enemy attacks. They were later made available to Columbia's public. (Read More...)
Contribute
Not sure where to start?

If you are new to wikis, check out the tutorial.
To write a new article, just enter the article title in the box below.
Recent News
[add · more]
Create blog post
Blogs
Figures in the line so far are Elizabeth, A Little Sister, two versions of Booker DeWitt (One with a SkyHook the other with a pistol) and a large siz…

Read more >
See more >
Unstable Teleportation Plasmid