Featured Article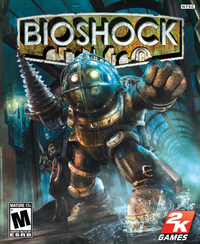 "A man has a choice, I chose the impossible. I built a city where the artists would not fear the censor, where the great would not be constrained by the small, where the scientist would not be bound by petty morality. I chose to build Rapture. But my city was betrayed by the weak. So I ask you my friend, if your life were the prize, would you kill the innocent? Would you sacrifice your humanity?"
BioShock was released on August 21, 2007 in North America, and on August 24th in Europe and Australia, with a standard edition and a limited edition. The Mac OS X version of the game was published by Feral Interactive and released on October 22, 2009.
BioShock is a "genetically enhanced" action-adventure, horror-themed first-person shooter by Irrational Games. While exploring the underwater dystopia, Rapture, the player is urged to turn everything into a weapon: biologically modifying their own body with Plasmids, hacking devices and systems, upgrading their weapons, crafting new ammo variants, and experimenting with different battle techniques are all possible. The philosophy, architecture, and society of Rapture were strongly inspired by the works of Ayn Rand, especially the novel Atlas Shrugged. The game itself is described by the developers as a "spiritual successor" to their previous PC title System Shock 2. BioShock received high praise in critical reviews for its atmospheric audio and visual quality, absorbing and original plot, and its unique gaming experience. (Read More...)
Contribute
Not sure where to start?

If you are new to wikis, check out the tutorial.
To write a new article, just enter the article title in the box below.
Recent News
[add · more]
Create blog post
Blogs
One might describe the future of the BioShock series as similar to the fate of Rapture: murky at best. What is certain is that this Wikia will carry on. E…

Read more >
See more >
Unstable Teleportation Plasmid