BioShock Licensed Soundtrack
Talk

3
2,232pages on
this wiki
For the official score composed by Garry Schyman, see I Am Rapture - Rapture is Me.
BioShock's licensed soundtrack helped contribute to the immersive atmosphere of the game with real world licensed music reminiscent of Rapture's time period. Most of them came from the mid-Twentieth Century and cast a feeling of the past in the ruins of the fallen utopia. Several other songs have been licensed without appearing in-game, though some are still present in the game's files, and two more were added for the release of the game on PlayStation 3 systems. Also, three modern tracks were recorded by Moby and Oscar the Punk for The BioShock EP album included in BioShock's Limited Collector's Edition released in August 21, 2007.
Appearing in-game
Edit
The following are the songs and music played while exploring distinct locations in BioShock.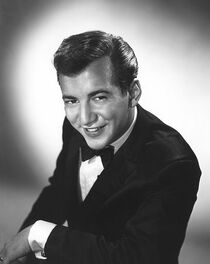 Additional Licensed Songs
Edit
Only short snippets of the following songs are heard during gameplay.
Song title
Artist
Year
Location(s) in game
"And All the While I'm Loving You"
Essential Jazz Masters
production music
"Wild Ride"
The Faux Frenchmen
2007

One of several choices when playing a jukebox

"The Ballroom Waltz"
Cliff Eidelman
1997

When Sander Cohen descends the staircase after completing the Quadtych)

Note: the filename is labeled as "academyaward" and Major Nelson's list states the artist as Stanley Black, but research has shown that these are not the same songs
The following songs are found in their entirety in the game's PC files but are not known to play in-game.
These song names are found in the PC files, but they are not playable. Several versions of the songs may exist. The most popular have been chosen to be representative.

Several more songs that appear to have been licensed for the game but do not appear in the final version or in any of the game files.[4]
| Song title | Artist | Year | Notes |
| --- | --- | --- | --- |
| "Avalon" | Django Reinhardt and Stéphane Grappelli | 1935 | - |
| "Let's Fly Away" | Lee Wiley | 1940 | - |
| "Just One of Those Things" | Lee Morgan | 1957 | - |
| "This is a Changing World" | Noël Coward | 1946 | - |
| "You're Getting to be a Habit with Me" | Bing Crosby and Harry Edison | ? | Crosby and Edison have recorded their own takes on this standard. It is not known if there exists a recording where they've performed together |
| "Academy Award" | Stanley Black | production music | Previously mistaken as being the "Ballroom Waltz" |
PlayStation 3 Exclusives
Edit
The BioShock EP Edit
This album was recorded by Moby and Oscar the Punk for the Limited Collector's Edition of BioShock. The first two songs are remixes of original ones present in-game, while the third, composed by Paul Patterson, uses various sounds and voices from the game.
Beyond the Sea - 03:15
God Bless the Child - 03:58
Wild Little Sisters - 03:56
References
Edit