Ad blocker interference detected!
Wikia is a free-to-use site that makes money from advertising. We have a modified experience for viewers using ad blockers

Wikia is not accessible if you've made further modifications. Remove the custom ad blocker rule(s) and the page will load as expected.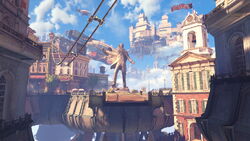 Over the course of the game, the player will travel through several different locations in Columbia, each one with its own unique theme and appearance.
The following is the list of the locations in BioShock Infinite.
These locations are explorable in BioShock Infinite's Downloadable Content, Clash in the Clouds:
These locations are explorable in BioShock Infinite's Downloadable Content, Burial at Sea - Episode 1:
These locations are explorable in BioShock Infinite's Downloadable Content, Burial at Sea - Episode 2:
Behind the Scenes
Edit
The diminutives for the levels' names as used in files are, in BioShock Infinite:

Light (for the Lighthouse)
TWN (for Town Center, TWN being short for "Town")
TWN2 (for Comstock Center Rooftops)
TWN3 (for Monument Island Gateway)
LizT (for Monument Island, LizT being short for "Elizabeth Tower")
BW (for Battleship Bay, BW being short for "Boardwalk")
BW2 (for Soldier's Field)
BW3 (for the Hall of Heroes)
Fink (for Finkton Docks)
Fink2 (for Finkton Proper)
Fink3 (for Shantytown)
Fink4 (for the Factory)
EMP (for Emporia, EMP being short for "Emporia")
EMP2 (for Downtown Emporia)
COM (for Comstock House)
CHU (for the Hand of the Prophet, CHU being short for "Church")
Lut (for the Sea of Doors, Lut being short for "Lutece")

In Clash in the Clouds:

HUB (for the Columbian Archeological Society)
ZEP (for O.P.S. Zeal, Zep being short for "Zeppelin")
BW (for Duke and Dimwitt Theater)
TWN (for Raven's Dome)
EMP (for Emporia Arcade)

In Burial at Sea - Episode 1:

RAP (for both Market Street and High Street, RAP being short for "Rapture")
DEPT (for both Fontaine's Department Store and Housewares, DEPT being short for "Department Store")

In Burial at Sea - Episode 2:

PARIS (for Paris)
RAP (for Housewares)
Col/Columbia (for Factory)
Clinic (for Dr. Suchong's Free Clinic)