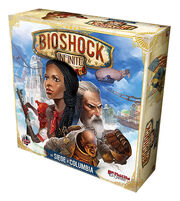 BioShock Infinite: The Siege of Columbia is a tabletop board game from Plaid Hat Games designed by Isaac Vega. Inspired by the video game BioShock Infinite, players can play (either as a single player or in a two of two players teams) as either the Founders or the Vox Populi, as they must build up an army to defeat their opposing faction, while persuading their own influences to sway various events that arise, in reclaiming Columbia to win. However, it doesn't follow the storyline of the video game, but rather, it allows for players to create their own scenarios for different storytelling moments.[1] The game features 52 '25mm resin miniatures, where 11 of those miniatures are different unique sculpts, cards, dice, and a board drawn by John Ariosa. The game was released around August 2013.
Leader Cards
Edit
The Founders
Edit
Vox Populi
Edit
Behind the Scenes
Edit
External Links
Edit
References
Edit
Ad blocker interference detected!
Wikia is a free-to-use site that makes money from advertising. We have a modified experience for viewers using ad blockers

Wikia is not accessible if you've made further modifications. Remove the custom ad blocker rule(s) and the page will load as expected.