BioShock Infinite: Industrial Revolution
Talk

8
1,987pages on
this wiki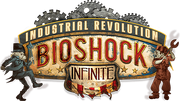 PLEASE NOTE!
Edit
This game was a pre-order title. It is NOT available for purchase anywhere.
BioShock Infinite: Industrial Revolution is a flash puzzle game provided to those who pre-order BioShock Infinite from participating retailers (also available via Steam). It is produced by Lazy 8 Studios in collaboration with Irrational.[1] Players assume the role of a factory worker in Columbia, who must repair gears in the city's machinery. This game will provide special ingame content to players.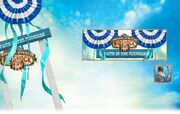 These are four rewards listed for playing BioShock Infinite: Industrial Revolution.[2]
The ingame rewards are redeemed using a download code issued on the BioShock Infinite: Industrial Revolution website, subsequent to play. Once the Industrial Revolution Reward Pack is downloaded, the ingame rewards can be collected at The Blue Ribbon, a restaurant entered by the player towards the beginning of BioShock Infinite, shortly after the Raffle in Chapter 1.
References
Edit