BioShock 2 Multiplayer Characters
Talk

3
2,224pages on
this wiki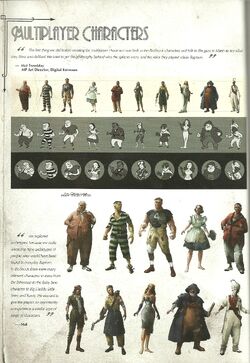 "We wanted to find a group of people that were varied and distinct from each other and had interesting silhouettes but also an interesting tie to the world of Rapture."
―Mat Trembley
Rapture was a city that attracted the world's best and the brightest, or at least people who had come under the spell of Andrew Ryan's economic philosophy. There was a vast assortment of people who came to Rapture: from artists to scientists, from engineers to athletes. Rapture's society collapsed into civil war after Atlas's planned attack on the Kashmir Restaurant, and normal citizens were caught up in the struggle for control of the city and its ADAM. In BioShock 2 Multiplayer, these citizens are playable characters.
Main Characters
Edit
Mentioned Characters
Edit
Behind the Scenes
Edit
The colour of each playable characters outfits will change during team-based matches, depending on what team they are on. Characters on the players team will be blue, while characters on the enemies team will be red.
The cartoon versions of the playable characters appears in the training videos for the multiplayer Plasmids, except for Mlle Blanche de Glace.