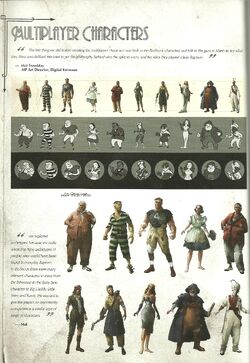 "We wanted to find a group of people that were varied and distinct from each other and had interesting silhouettes but also an interesting tie to the world of Rapture."
― Mat Trembley
Rapture was a city that attracted the world's best and the brightest, or at least people who had come under the spell of Andrew Ryan's economic philosophy. There was a vast assortment of people who came to Rapture: from artists to scientists, from engineers to athletes. Rapture's society collapsed into civil war after Atlas' planned attack on the Kashmir Restaurant, and normal citizens were caught up in the struggle for control of the city and its ADAM. In BioShock 2 Multiplayer, these citizens are playable characters.
Main Characters
Edit
Mentioned Characters
Edit
Behind the Scenes
Edit
References
Edit
Ad blocker interference detected!
Wikia is a free-to-use site that makes money from advertising. We have a modified experience for viewers using ad blockers

Wikia is not accessible if you've made further modifications. Remove the custom ad blocker rule(s) and the page will load as expected.