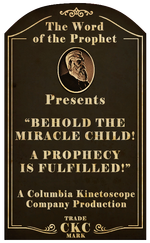 Title:
"Behold the Miracle Child! A Prophecy is Fulfilled!"
Level: Hall of Heroes
Transcript:
[view of a stained-glass mural of Lady Comstock and
Father Comstock
holding a baby Elizabeth]

After only seven days in Lady Comstock's womb,
The Miracle Child
is born!

[Lady Comstock holds the baby while Father Comstock looks on]

Lady Comstock is a fitting mother to this miracle!

[Father Comstock gesticulates]

The future of our great endeavor lies in her little hands!
FIN
Location: Inside the Hall of Heroes gift shop by the entrance.