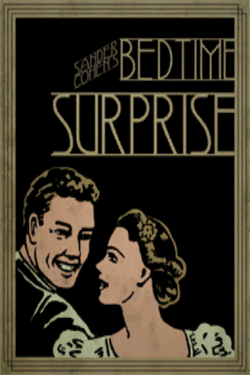 Bedtime Surprise is one of several plays/musicals written by Sander Cohen, shown in the Fleet Hall of Fort Frolic in the underwater city of Rapture. By analyzing the poster for the play/musical, it can be ascertained that it starred a man and a woman (presumably more), and one if not both could have been the lead/s. The title "Bedtime Surprise" indicates that the show would have had some sort of sexual theme, or simply; a surprise during bedtime. Bedtime Surprise was reviewed by Rapture Tribune in 1959.[1]
Main article: BioShock
Sander Cohen was criticized for his actions as a propaganda mill to promote Rapture in the best light possible.[2] With this in mind, Bedtime Surprise may well have been a form of entertainment-disguised propaganda for Andrew Ryan. As posters can be found in locations like Fort Frolic during BioShock, it can be assumed that Bedtime Surprise was shown at the Fleet Hall until the closing of Fort Frolic, during the Civil War.
BioShock 2 MultiplayerEdit
Main article: BioShock 2 Multiplayer
A poster for the production can be found in the Glamour Suite's dining room in the Mercury Suites map of BioShock 2 Multiplayer.
Behind the Scenes
Edit
The man and woman seen on the advertisement is taken and altered from a "Smile and Spread Good Cheer" royalty-free clip art.
The man on the poster is reused for the "Rabbits Song" album cover and the woman for the "Fabulous" album cover, both featured in Burial at Sea - Episode 1.
References
Edit
↑ Rapture Tribune copy in BioShock 2 Multiplayer.
↑ Anna Culpepper's Audio Diary: Ryan's Stableboy