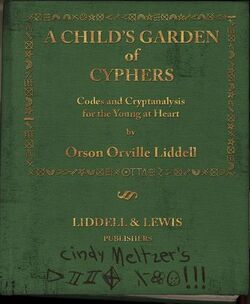 A Child's Garden of Cyphers was a book written by Orrin Oscar Lutwidge using the alias "Orson Orville Liddell" and published by his company, Liddell and Lewis Publishers, in 1947.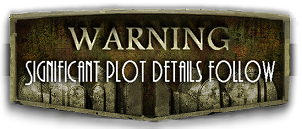 There's Something in the SeaEdit
Main article: There's Something in the Sea
Mark Meltzer used this book to decipher the symbol code on several puzzle boxes which he found while searching for his kidnapped daughter, Cindy.
This symbol code, referred to as "Lutwidgian cipher" covers the outside of the Lunchbox Puzzle, and is used in unlocking the various levels of the Metal Box. It can also be seen on the cover of the book itself, where it forms a rectangular border around the title. This border, when decoded, reveals the message:

Starting from the top left reading to the right:
"Yawn not darer and wander nary/ Be warned and ready/ Dawn's ray nears/ Will my wand err nay"

Reading in the opposite direction down the left side:
"Read now and be wary"

Notably, many word combinations in this message form an anagram of "Andrew Ryan":
Yawn + darer: Andrew Ryan
Wander + nary: Andrew Ryan
Wand + err + nay: Andrew Ryan

In November, Mark received Cindy's personal copy of A Child's Garden of Cyphers from his estranged wife, Amanda. This copy was much dirtier than Mark's, and it had Cindy's signature on the front, along with a short cypher warning: "KEEP OUT!!!"
This copy of the book could be opened to a page containing a cryptic word search puzzle. The symbol filled grid of this word search doubles as an ADFGVX cipher
[1]
for solving the
fourth level
of the Metal Box puzzle.
The Cryptic Word Search
Edit
The word search contains cypher sybols that, when translated, read:
(Bold letters were circled in the book.)
| | | | | | |
| --- | --- | --- | --- | --- | --- |
| X | E | R | D | N | A |
| W | G | O | B | L | R |
| R | Y | F | I | S | K |
| Y | P | C | D | U | H |
| A | E | W | Q | A | T |
| N | Z | M | J | V | N |
The following text is on the adjacent page.
(Highlight the white blocks with your pointer to see the answers.)
Now test your knowledge of the cipher! Find the hidden words... and remember, on this grid sometimes Y = X! We've checked off the first few to get you started.
✔
1. No if, this, or but!
(3)
AND
✔
2. Home for a Hungary Pest.
(3)
ERD
✔
3. Not me, but I. Not us, but --.
(2)
WE
✔
4. A ham's humor is often---.
(3)
WRY
✔
5. Yea? I say thee ---!
(3)
NAY
6. What Painvin cracked.
(5)
ADFGX
7. Dirigible, in a hurry.
(3)
ZEP
8. Swindler's Act.
(3)
GYP
9. Where the frog lays on a log.
(3)
BOG
10. 1872 Black Friday's scoundrel.
(4)
FISK
11. Thor's stunning sweetheart.
(3)
SIF
12. Auction term.
(3)
BID
13. Maybe hetero- or ortho-.*
(4)
DOXY
14. Arabian tea with no u.
(3)
QAT
15. Hull of a nut.
(3)
ARK
16. Hollow, to a Welshman.
CWM
17. Mecca trek.
HAJ
18. She fell underground.
ALICE
19. Sr. Varsity's offspring. (abbr)
JV
*Remember! On this grid, sometimes X=Y
Cipher Images
Edit
References
Edit
↑ ADFGVX Cipher on Wikipedia
Ad blocker interference detected!
Wikia is a free-to-use site that makes money from advertising. We have a modified experience for viewers using ad blockers

Wikia is not accessible if you've made further modifications. Remove the custom ad blocker rule(s) and the page will load as expected.