1999 Mode
Talk

0
1,848pages on
this wiki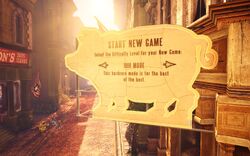 1999 Mode is an unlockable mode of gameplay that is more difficult than the 'Hard' setting. It can be unlocked by either beating BioShock Infinite for the first time or else by entering the Konami Code (up, up, down, down, left, right, left, right, b [cancel], a [confirm]) while in the game menu. The developers of BioShock warn players that the game will not "feel like BioShock" in this mode.
Reduced number of player respawn points.
Reduced ammunition.
Enemies inflict greater damage.
Player has reduced and faster-depleting health.
Respawn cost increases to $100, and the player will be sent back to the main menu if they don't have enough money.
Navigation Arrow is removed completely.
Difficulty cannot be changed during gameplay.
No auto-aim.
Changes in Development
Edit
1999 Mode was originally meant to emulate the feel of older or experienced shooters. Players would have to choose a "class" for Booker, such as Heavy or Long-Ranged, each with its strengths and weaknesses. Players would also have to make permanent choices that would have irreversible consequences--for example, Gears, called Nostrums at the time, would not have been removable or replaceable. This was changed when the Gear limit was shrunk down to four and they became randomized on each playthrough. In the finalized version of the game, 1999 Mode is simply an extra-hard mode with no drastic changes to the core gameplay.